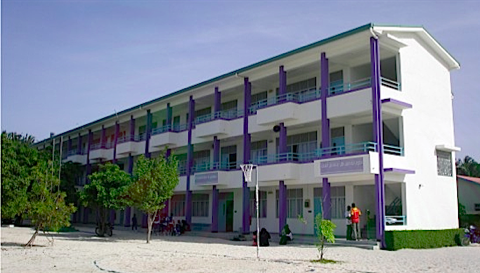 A decade ago the Maldivian government observed that the increasing population was putting a strain on access to education- a growing population meant a growing demand from primary school spaces. It was this demand for education that motivated the building of Afeefuddin School in Kulhudhuffushi.
The construction of the school was made possible with the help of a loan from the Islamic Bank. During its first phase, the school was contained in a single three-storey building. The school building was self-sufficient, possessing all necessary facilities, such as: nine classrooms, a science laboratory, a library, an administrative office, supervisors' room, a printing room, a first aid room, a kitchen and toilets. Once this first phase of construction was complete, the school was officially opened on the 25
th
of April, 2004.
Upon the opening of the school, 534 students in grades 1-7 and 40 staff members were registered at Afeefuddin School. All of the students and teachers transferred from Hdh Atol Education Centre, which was severely overcrowded at the time.
Unfortunately, only months after opening, the tsunami of 2004 caused grave damage to the school. Consequently, under the government Tsunami Recovery Program the school was restored and a new hall with an attached prayer room was built. The construction of the hall lasted from mid 2007 to mid 2009.
The school has been awarded an independent budget from the Maldivian government to ensure the development and expansion of the institution.